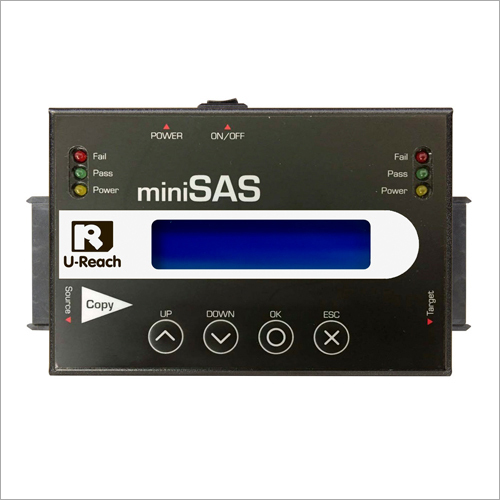 1 To 1 SAS-SATA HDD Duplicator
Product Description
Supports all brands of SAS/ SATA HDDs and SSDs.
Stand-alone, FPGA-based operation (Non PC-based).
Ultra-fast Speed transfers up to 18GB/min. (300MB/sec.)
5 Sanitization Modes: Quick Erase, Full Erase, DoD Erase, 7-Pass Erase, and Secure Erase.
Erase Confirmation:
Supports real-time print proof through RS232.
IPM (Invisible-Proof Mark) Technology: Users can see which last erase mode was used.
Capable to output log report to a USB device.
Copy Modes: Quick copy: Copy data and system only. Supports Windows, Mac and Linux.
All Partitions: Copy all defined partitions and skip HPA or unknown partitions.
Whole HDD: Bit-by-bit copy mode which copies exactly like the master device.
Percentage Copy: Users can set percentages of capacity to be copied.
Technical specification
Model

SA200

Target

1 to 1

Specifications

Max speed (GB/ min)

18 GB/ min
(*Actual performance is dependent on HDD transfer rates.)

Operation

Standalone operation

Language

English, Japanese

Display

Backlight Monochrome LCD

Status LED

LED (Green/Red/Yellow) indicator on each slot

Input key

4 push keys: (▲/UP, ▼/Down, OK/Confirm, ESC/Cancel)

Features

Copy

Quick Copy (System & Files), All Partitions Copy, Whole HDD Copy, Percentage Copy

Compare

Bit by Bit data comparison

Erase

Quick Erase, Full Erase, DoD Erase, Secure Erase, 7-Pass Erase, Enhanced Secure Erase.

Compatibilities

OS Supported

All (Windows, Linux, RAID, Other stand-alone systems)

HDD/SSD Compatible

w/o adapter

1.8"/2.5"/3.5" SAS/SATA HDD and SSD

w/ adapter

2.5", 3.5" IDE HDD, mSATA SSD, micro SATA, eSATA, iVDR, M.2(NGFF), Cfast, SATA DOM.

Advanced format

Support MBR, GPT, advanced format HDD (18TB above)

Hardware Specifications

Temperature range

Working temperature: 5°C ~ 45°C

Storage temperature: -20°C ~85°C

Humidity range

Working humidity: 20% ~ 80%

Storage humidity: 5% ~ 95%

Dimension(cm)

11.5x8x3

Weight (g)

360

Power

84W (12V 7A)

Power Supply

Adjustable Voltage 100V~240V, 50/60Hz

Certification

FCC, CE, RoHS
Contact Us
5th Floor, N0. 4, Lane 50, Sec-3, Nangang Road, Taipei, Taipei Shih / Taipei Hsien, 115, Taiwan
Phone :886-2-26535818